How to Create a Business Website
Every day, it becomes more and more important for any business, be it a small local operation or a sizable nationwide business, to have an online presence, specifically through having and maintaining a website. Considering how 5.03 billion people worldwide use the internet every day, which is 63.1% of the world's total population, opening a website for your business is the logical way to earn as many eyes and as much interest towards your business as possible. Eyes and interest directly relate to your business succeeding, so why not embark on the journey of creating a website for your business sooner rather than later?
Starting a website for your business may sound difficult at first, but it's actually less challenging than you might think! Accompanied by guides and advice ranging from this article about starting a business website to resources teaching you the basics of website fonts or choosing domain names, there's a lot of help out there for anyone looking to open a business website. Read through this guide, for instance, for a basic step-by-step process to create a versatile and professional-looking business website!
In this article, we'll be covering:
1. Choose Your Website Building Location
The first step for anyone looking to start a website is to choose a website building location. First impressions are crucial for websites, because site visitors determine if they find a site visually appealing or not within their first 0.2 to 2.6 seconds on a site. Nobody wants to stay and continue viewing an unappealing site, so if you want your visitors to like what they see and stay on your site, you'll need to make sure your site looks professional, presentable, and visually appealing, regardless of what profession or industry you work in.

While creating a visually appealing website might sound hard at first, the good news is that there are many options out there for website builders where visual appeal is a forefront priority of theirs. These services know that the visual design of a site can make or break its popularity and attractiveness with site visitors, and so visual appeal has been made integral to their services. Visual appeal works best when it's not packaged with an overbearing level of complexity, of course, which is why simple-to-use website builders are often the way to go when creating websites, since they bring both professional-looking results and ease of use to the table. My go-to choice would have to be the Website.com Site Builder, which I've had great experiences with and have found to be the most easy to adapt to when using. Their service offers fantastic customizability while providing users with a straightforward drag-and-drop site building experience which keeps things simple and hassle-free, an experience maintained throughout its over 500 website templates that help you get started. Its tools, elements, and user experience seem geared towards encouraging presentability and professionalism in your final product, which makes it a great place to build a site regardless of your experience level with doing so. I'd recommend you give this website building service a try, as their offerings to their users definitely make it worth your time.
2. Prepare Your Content and Information
This next step is an important preparatory step that you won't regret completing prior to building anything major on your site. When creating a business site, you'll undoubtedly need to populate your site with high quality content that represents what you and your business have to offer to your site visitors and potential clients. Gather up all that content that you plan to fill your site with, before you've made any major steps in building your website. This means that you can build your website around all the content that you have prepared and ready to use, rather than limiting yourself and your content based on how you've already begun the site building process.
For example, let's say you're creating a website for a consulting firm. For this step, you'd preferably want to gather up and prepare all the content you'd want to use on your site before you go ahead and begin building your site. This content includes photos, text passages, logos, files, PDFs, and anything else that'll likely be incorporated into the consulting firm's website. If there's any content that needs to be written or created for use on the site that hasn't been made yet, it would be preferable to leave some flexibility in your site design for them once they're ready to be added. By gathering your content now rather than later, you save yourself a lot of time and hassle, and chances are, your website as a final product will benefit from your early preparation too.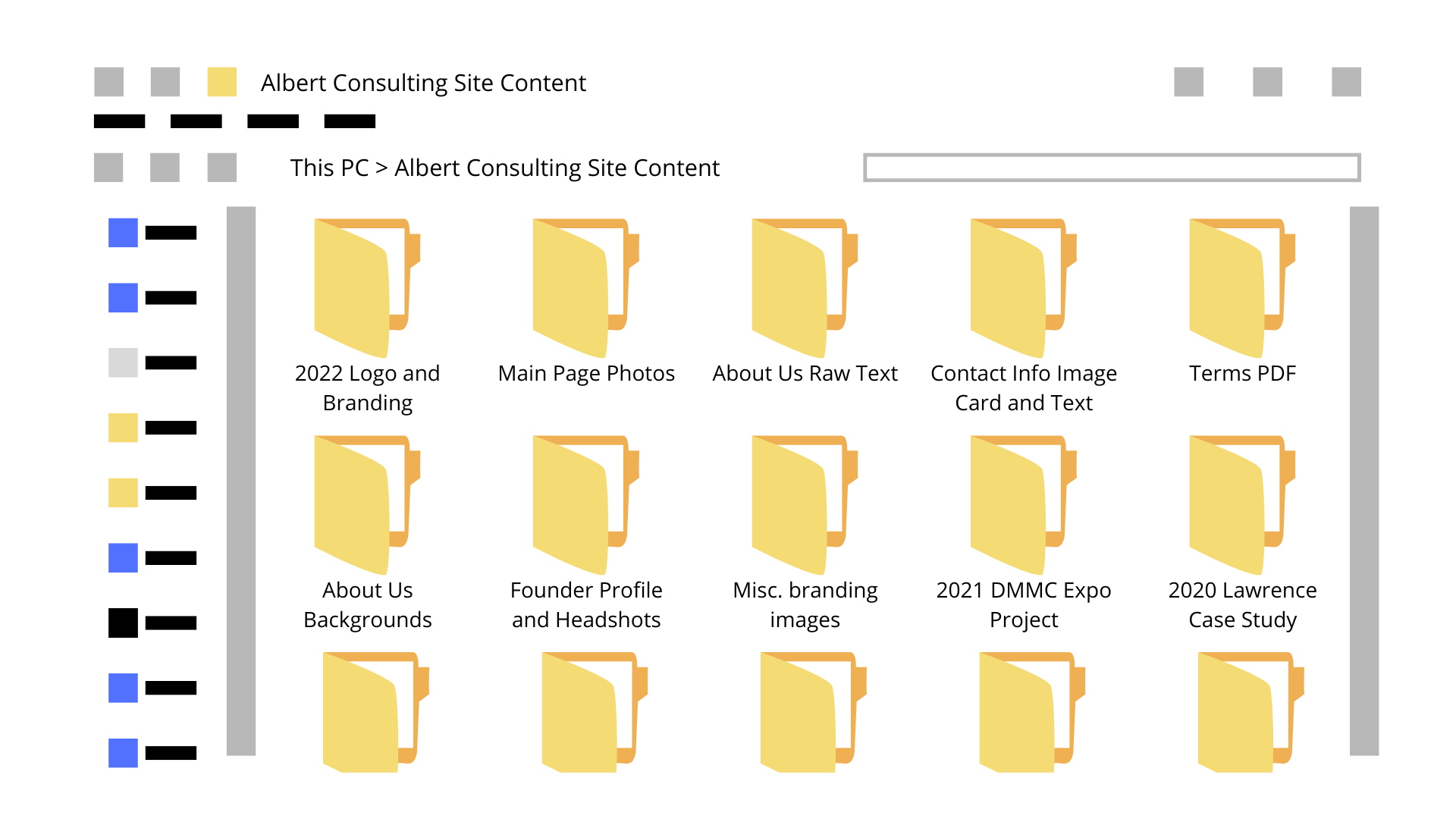 3. Create Your Site Pages
With business websites, there's an expectation for you to have several key pages that all business websites should have. With these key pages, we can split them into two types: standard pages that any business website regardless of their industry should have, and specialized pages based on what's applicable to your business's needs.
The first type of page, the standard pages that any business website should have, consist of things you're usually used to seeing, or will come to commonly see, once you spend even a little time on business websites. A home page, an about us section, and a contact us and/or location page are the core essentials for any business page, so ensure that your site has these features.
The second type of page, the specialized pages based on what's applicable to your business, consist of features that are specific to what your particular site and business needs; you won't see these features on every business site you ever visit, because they'll either be used or not be used based on different business sites' needs. Examples of these specialized pages include a products page, a shop feature built into the site, a page about what services are offered, and an appointment booking page. These examples and more can either be essential or necessary for your particular website, so think about what and why you need certain features on your site, and include them on your site if you find that they really are needed by your business site.
Not sure where to start with thinking of, then creating, the pages for your site? Luckily, website builders often come with pre-built pages that already fulfill the features I've talked about in the previous paragraph. These pre-built pages can be added onto your website in different ways, and should offer customization so you can take the strong start they've given to you and make it perfect for your own website's needs. If you're looking for inspiration on what sort of look to go for with the different pages of your site, you can use the internet and its endless resources to find inspiration for your site simply by looking up examples of different types of website pages and going from there.
4. Make Your Site Presentable
After you've figured out what and how your website and its pages should be structured, it's time for you to consider another key aspect of your site: its overall visual appeal and presentability. How pleasing your site is to the eye, especially when it comes to making first impressions on site visitors, is vital to your site's success, since website visitors make up their minds within their first
first 0.2 to 2.6 seconds on a site
about whether it's appealing enough to stay on.
Fonts, color schemes, layouts, quality, and more are all aspects you need to consider if you want to create a truly appealing website. What goes into making a site appealing is admittedly varied and isn't extremely simple to grasp at first, but not to worry. Helpful tips about
the basics of font selection
,
going further with font selection
,
what to consider with domain name selection
, and
how to select your website's colors and layouts
are all readily available online for you to refer to and use to your advantage when building your business site and its pages. Don't be afraid to take a little longer or refer to more resources when you're advancing through the visual design process. It'll all be worth it when you eventually finish and end up with great presentable results!
5. Ensure Mobile Accessibility
With running your business, you undoubtedly want as many people to be able to access your website to learn about and use your business's services as possible. With this hope, there's a very key aspect of your business site that you need to ensure is working. You need to make sure your site is mobile friendly and operates with minimal to no issues for people who browse your site from a mobile device. In 2022,
58.99% of website traffic worldwide
originates from mobile devices. This is why you need to make sure that anyone browsing on their mobile device has as good of an impression of your site as someone who's browsing your content from a desktop PC.
The way you can make your site mobile-friendly depends on the method you've chosen to build your site with, and you might need to find different methods or solutions of varying easiness and complexity to make this happen. For example, if you've used the

Website.com

Site Builder to build your site, you'd be able to edit the mobile version of your site in the same session you're editing your site's desktop version in. I've personally found this feature to be really convenient, and it's saved me a lot of time and hassle when creating desktop and mobile versions of websites in the past.
6. Review and Finalize Your Work
Once you've completed all the previous steps and have fleshed out your business website with everything you need, you can move on to the reviewing process of your content. Make sure everything on your site is the way you want it to be before you publish your site and begin using it to represent your business to the world. For starters, look through your entire website and make sure it's organized, high quality, and appealing. Next, comb through the functions of your site, such as any appointment booking features, embedded videos, links to different pages and external locations, and more, to make sure everything is working as intended. This part is important, because if your website doesn't function the way it's supposed to, it could end up costing you the awareness and good favor of potential and/or current clients.

Additionally, don't be afraid to ask for second opinions and try-outs of your implemented functions from those around you, because they can tell you what their impressions and experiences with your site are, and if they see any potential hiccups in your content. Along with all the functions you should check over, ask them to check for any errors or inconsistencies in your content, because it's best to be on the safe side even if you've already checked for errors yourself. Once you're happy with the state of your site and are satisfied with how the site represents your business, you can publish your site to start welcoming visitors and bring in more interest in your business.
7. How to Create a Business Website: A Step By Step Guide
For the purposes of this tutorial, I'll be using the Website.com Site Builder for its simple usage and quality results. First, log in to Website.com and choose a template you find suitable for your business website. From here, we'll be building out different sections of the site on the template you've selected!

The great thing about many of Website.com's website templates meant for business sites or other related purposes is that they already include many of the features one would expect from these sorts of sites. For example, the template I've chosen here already has the essential pages for the sort of site I want to make, like a home page, an about page, and a contact page, alongside other pages. Depending on your particular goals for your site, you can feel free to use the pages as they've been created and organized for you, or you can edit the existing accommodations for content to suit your individual needs better. With the flexibility and customizability that this site builder offers, you're able to really make a site that stands out on its own as unique.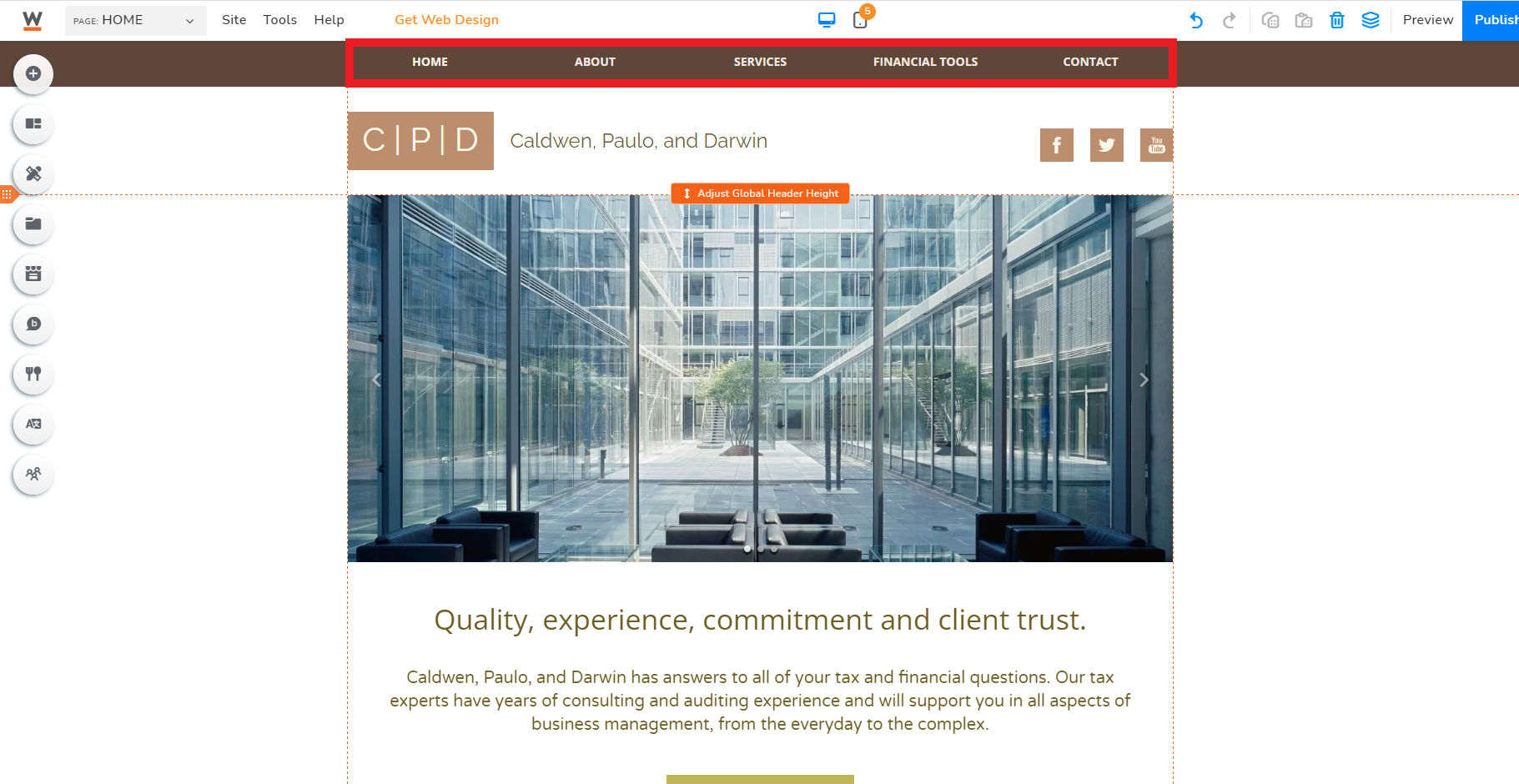 When you first open up your template, you'll see a lot of content that's meant to be placeholders for the real content that you'll put in during the process of making your site truly yours. From photos to text, be prepared to go through your entire site and swap out placeholder photos and text for the real deal that you bring from your individual business and circumstances. Not sure about the basics, like how to swap out photos or text? I'll walk you through some basic changes you can make to your site to make it really represent what you and/or your business have to offer.

To change photos, left click once on an image that you see on your site, and you'll see some buttons pop up. From these buttons, click the "Manage Content" button, which will open up a new window in the site builder that lets you customize what's displayed in the content where you've clicked. To change the image displayed, click the "Replace Image" button in the top right area of this new window. This will open up a new interface where you can select what new image you'd like to have displayed. You can select from countless stock images of a wide range of subjects and styles provided to the site builder users free of charge, or you can upload your own photos to be used.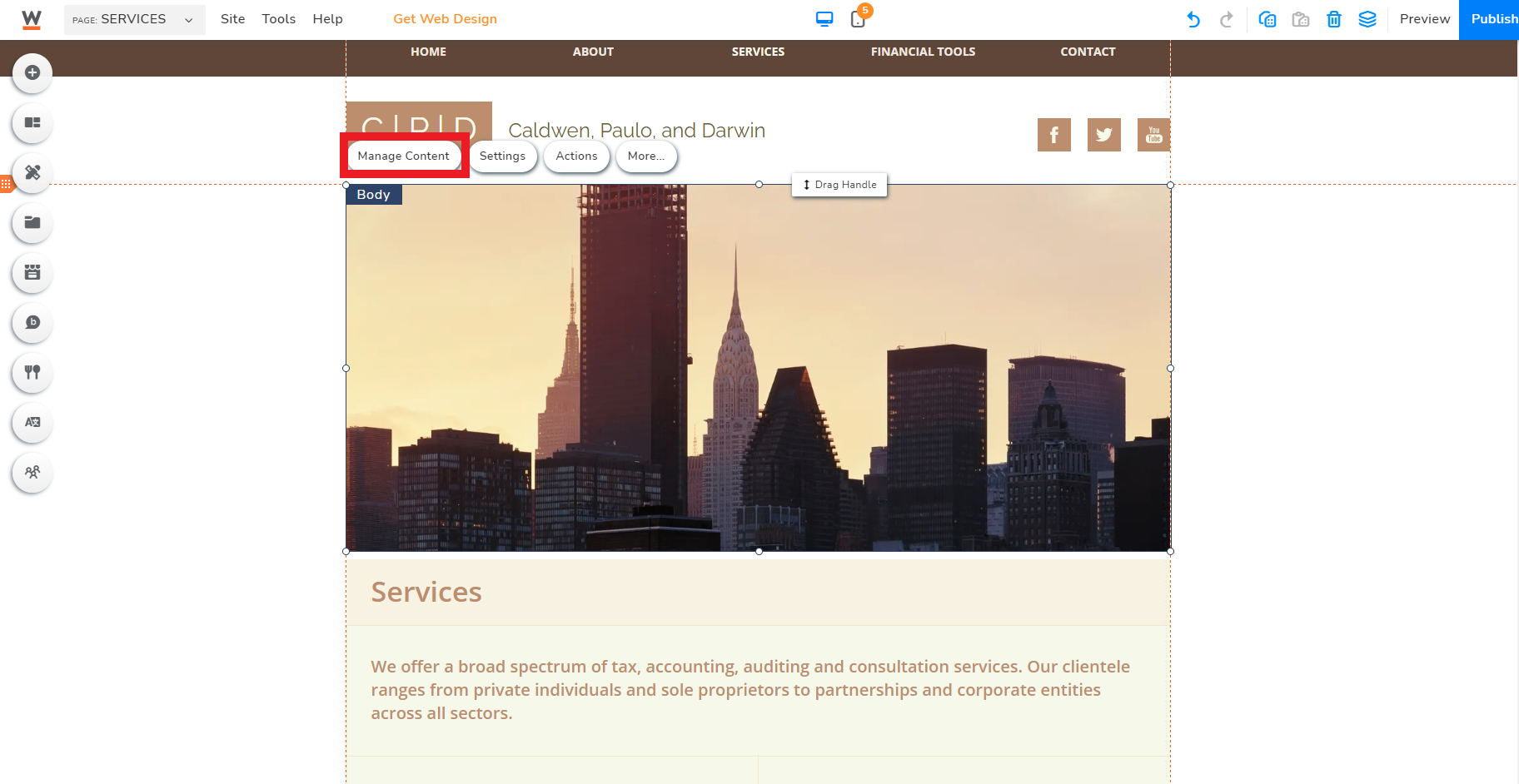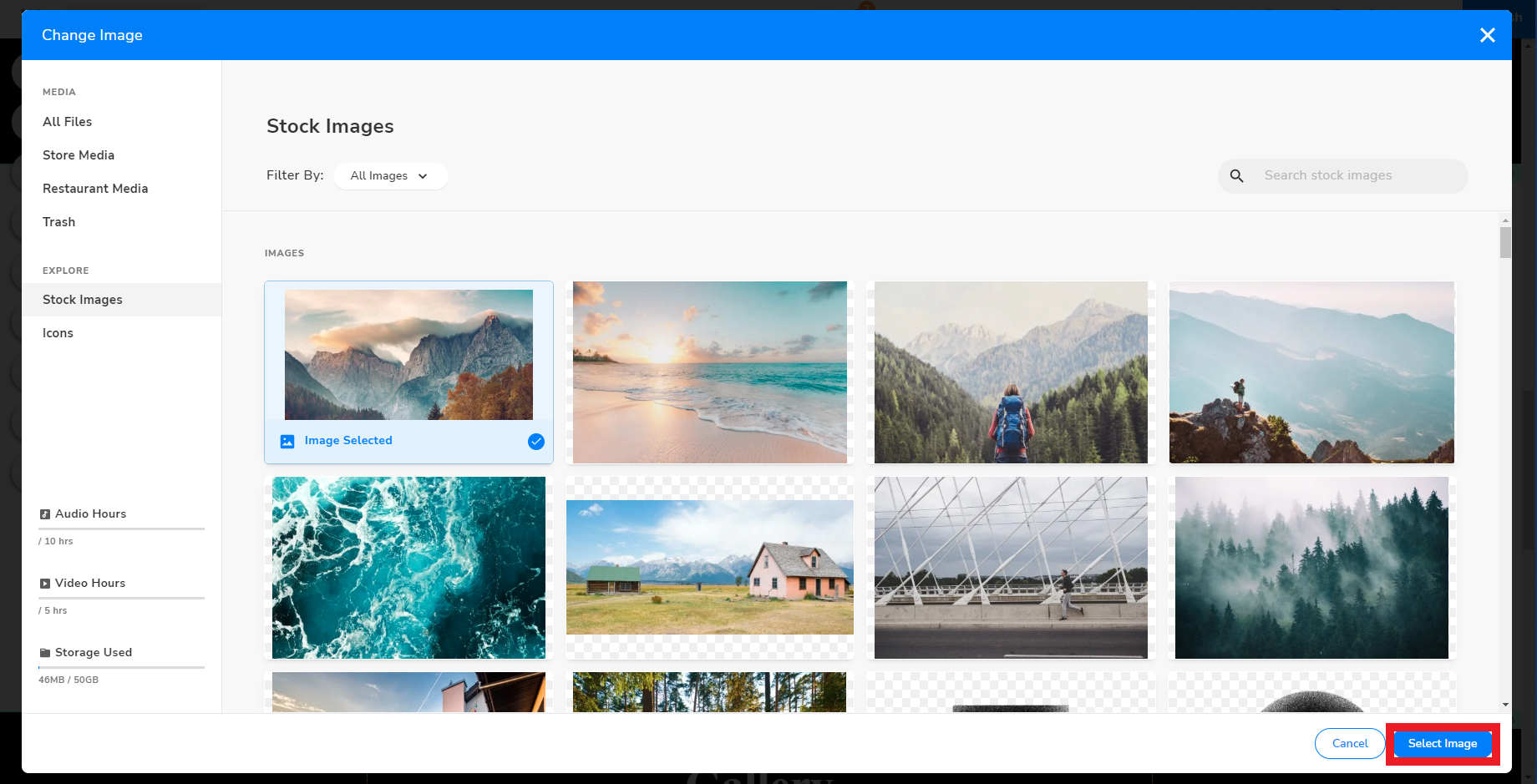 To upload photos to be used on your site, click the "Upload File" button in the top right area of this photo selection interface. It'll open up your computer's documents, and from here you can select files from your computer to upload to use on your site. Alternatively, you can also upload photos to be used on your site by dragging and dropping files from your computer directly into the photo selection interface, which should become highlighted in blue when an uploadable file is held over it.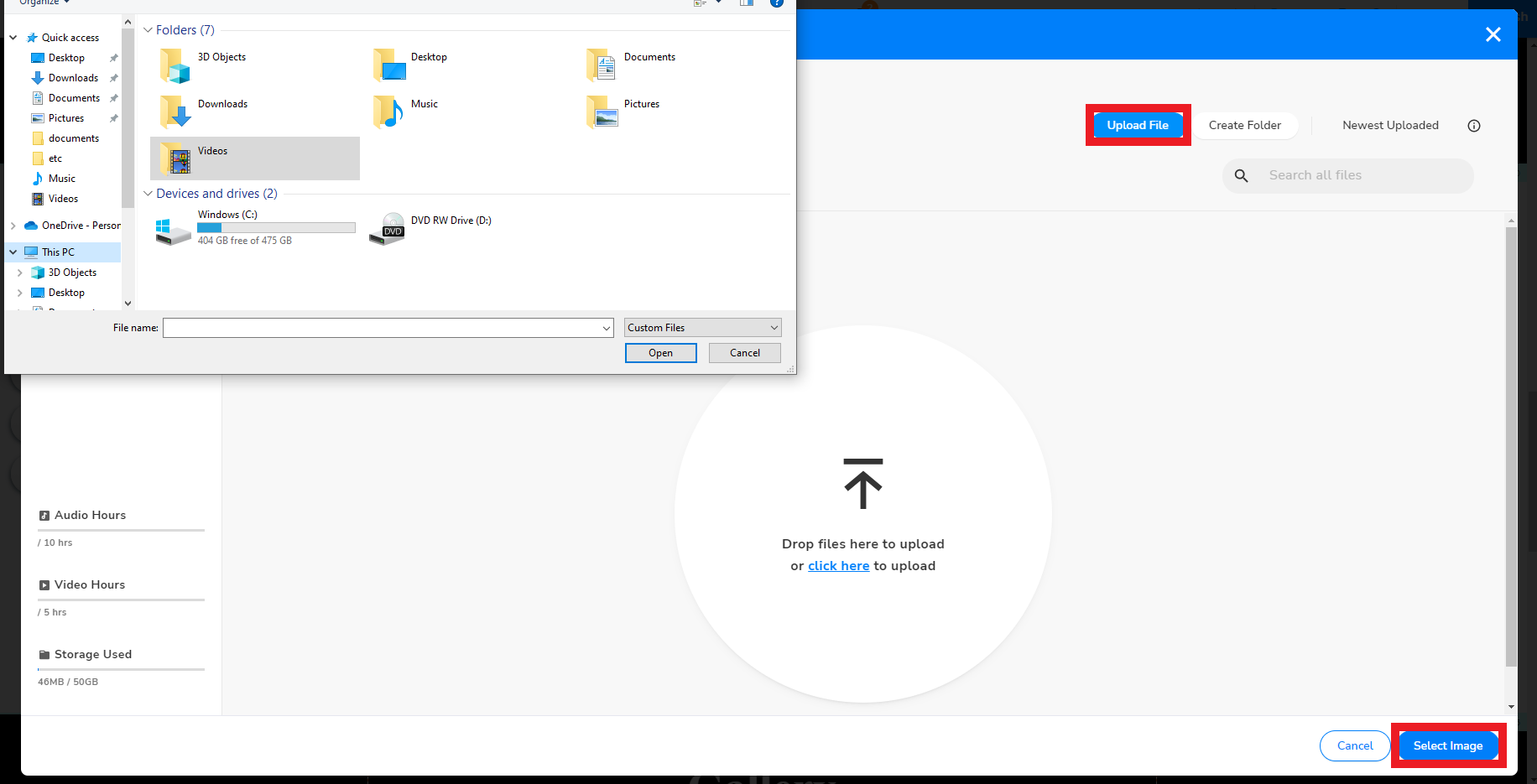 Changing text is a very straightforward process. Simply left click on a piece of text, and you'll see several buttons corresponding to the text element you've selected appear. Click the leftmost button that says "Edit Text "Your Text Here", and you'll be able to edit the text and its properties in the element you're working with.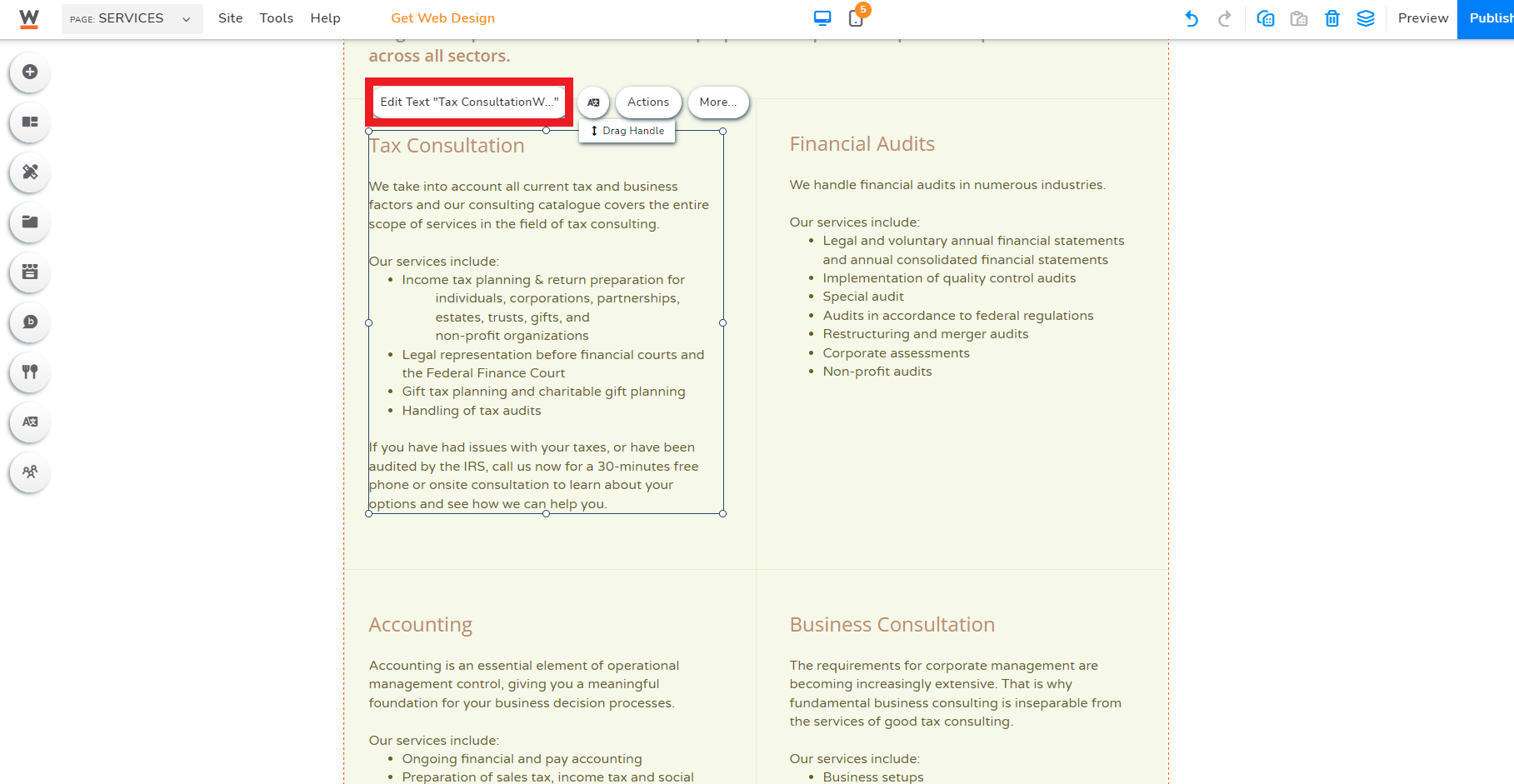 Repeat these same processes throughout your site, and remember to upload and use the content specific to your business, to yield the best possible result that you can.
While creating a business website might seem time-consuming and on the tedious side with its numerous steps, your business will benefit greatly in the long run from a well-done website that represents what it has to offer. Remember that after completing your business website and publishing it, you'll still need to occasionally update its content, otherwise visitors might catch on to its lack of maintenance and think less of your business as a result. A presentable and well-maintained site representing your business can go a long way in representing your business to casual visitors and clients alike.