How to Improve Your Blog Writing
While many of us may want to write blog posts, or have already written blog posts, you might feel like you're having trouble finding new topics, or like you can improve a lot on what you're currently doing, or any other aspect you think you could improve in. You're not alone in feeling this way, and they're actually positive things to have, since they can motivate you to improve yourself and your skills in what you do. That's why in this article, I'll be discussing how anyone can improve their blog post writing skills with just a few straightforward changes to how you might already be doing things.
Interested in starting a blog, but not sure where exactly to start? I'd recommend you try your hand at creating a professional-looking site using a very beginner-friendly service that makes website creation simple. It puts you at an advantage compared to trying to create a website from scratch on your own, and helps you make a strong impression on anyone who'd visit your site. The service I'd recommend is the
website.com Site Builder
, which streamlines website creation with drag-and-drop functionality while giving you freedom to design any sort of site that suits your online presence, from showcasing your hobby to serving as a storefront. Try it out if you think a simple website building process sounds suitable to you.
In this article, we'll be covering:
Consistently Find Topics to Discuss
One of the most important aspects of making interesting blog posts that draw in an audience is to consistently find interesting topics to write about. This will effectively appeal to your readers' interest in you, which will make them more likely to become interested in and stay engaged with the content you put out. Finding engaging topics to write about may sound difficult at first, but it's actually simpler and easier than you might think. There are a wide range of resources you can draw on, based on what kinds of topics you're interested in writing about, and what kinds of audiences you're aiming to reach, to consistently find strong inspiration for your blog.
Are you interested in appealing to trending popular topics online by writing posts centered on or related to them? I'd recommend using resources like
Google Trends
,
Answer the Public
, and
Keyword Tool
, which are services that let you see what search terms are popular within different locations, demographics, online platforms, and more. With access to this information, you'll be able to come up with different topics to write about, while will let you plan on appealing to different audiences based on your knowledge of where and what kinds of content different people consume. Inspiration will definitely come easier to you once you know more about what topics and ideas catch people's attention.
What are you knowledgeable in? Do you have a vast well of expertise in a specific area of, for example, SEO applications for ecommerce sites? You can draw on what you know a lot about, or have a passion for, and build on these starting points to create quality and intriguing articles for your readers to enjoy. Don't worry if your knowledge is all-encompassing within the topic, because you have an endless source of information available to you online that you can use at any time to support and fill in any parts of your knowledge you might not be entirely sure about, so your blog posts still turn out as quality end products.
Understand What's Popular
If your website is targeted at a specific type of audience interested in an overall theme to your site, your content would best be able to appeal to them by finding and writing about topics that are varied but are still related to your blog's main theme. For example, if your site is about finding deals for online shopping, you'd write about different places with deals ongoing that your readers can take advantage of. Think about what to write with your readers in mind to best earn their interest in what you do. Maintaining a consistent amount of content when limited to a specific range of topics related to your blog means you might eventually run into trouble looking for inspiration. This is where tools like
Google Trends
,
Answer the Public
, and
Keyword Tool
come into play. Using these tools, you can look at data gathered from search engines about what and how people around the world use specific keywords, what they often look up, what trends in search engine usage are present, and more. Using this information, you'll be able to find inspiration for topics that audiences would be interested in seeing you discuss on your blog. Sources like this should help you stay original and find new topics to keep your audiences interested with.
Additionally, you can always look at other blogs similar to yours to see what topics they're covering, and what the reception to these topics is. What are competitors and other blogs similar to yours writing about? What are topics that other blogs seem to find success with, and what topics do they fail to do the same with? Answering questions like this and more are great ways for you to identify and locate topics that you can write about to attract audiences with. Don't be afraid to do a bit of deeper digging to find some effective and unique content you can work with.
Write in a Clear Tone of Voice
When writing content for blogs, a big part of appealing to your audience is the tone that you come across with in your writing.
What kind of tone you end up using in your writing can vary a lot depending on the type of person you are, the kind of content you cover, the sort of audience you're aiming to attract, and more. Understanding how your writing will make readers feel, and what you want your readers to feel, can go a long way when deciding how you write your blog content. As an example, you can write with a more authoritative and formal tone when writing about the importance of keeping your site secure and safe from malicious threats. This will give your writing, and thus the voice that people associate with you and your blog, the feeling of being a firm and reliable source of information that people should remember and learn from.

As another example, you can be more casual and friendly with your writing when writing about ways to make your site look more aesthetically pleasing, to give readers a more approachable and personable feeling, so your advice comes across as knowledgeable but also amiable and digestible. You'll sound more approachable, and your advice will sound more like something anyone can follow along with and do themselves, which can keep readers coming back to your blog for more.
Regardless of what kind of tone you write with in your blog posts, what's most important is that your audience feels drawn in by your content and stays engaged with your blog overall. This is effectively done by maintaining a consistent tone of voice within your writing. Have you ever read pieces of writing that are tonally all over the place? Maybe one paragraph sounds bright and cheery, while the next immediately becomes stern and authoritative. Anything written in this way is undoubtedly awkward to read, as your impression of this content can never completely settle on what you're supposed to be feeling. This can be enough to drive away readers from content, which is why it's important that you maintain a consistent tone in the piece of content you're writing.
Keep a Clear Content Format
If you find the reception to your blog might be more lukewarm than you would've thought it'd be, the problem might not lie in the sort of content you put out, but rather, it might be hidden in plain sight to you.
The overall format of your blog's content can do a lot to impact whether readers want to stay on your page and continue reading your content. First impressions of websites are made between
0.2 to 2.6 seconds
, and first impressions of sites are
94% design related
. The impression you make on your readers within this short time period could easily decide whether a potential reader stays or goes elsewhere for their content.
With formatting your blog, the rule of thumb to remember is that simplicity is usually the most ideal way to do things. You don't need to try any unique or radical formats for your text, for example. Simple, straightforward, and easy-to-digest short paragraphs with clear topics is always the most reliable layout to work with. It should make your writing process easier to work with, too. The same applies to images that you include in your content, where you don't need complicated and over-the-top graphics to get your points across to your readers. Simple graphics that complement your content are already more than enough to demonstrate your knowledge to readers.
Make sure your paragraphs are ordered logically based on what they talk about, and make sure readers can see clear divisions between paragraphs covering different topics. You don't want to format your blog so that, for example, a paragraph about Topic A has no heading or subheading dividing it and another paragraph about Topic B. The clearest and most straightforward way to divide sections is to use simple headings and subheadings, with paragraphs and sections divided based on the topics they cover. This gives readers a clear understanding that you're moving between different topics and makes your content easier to read through.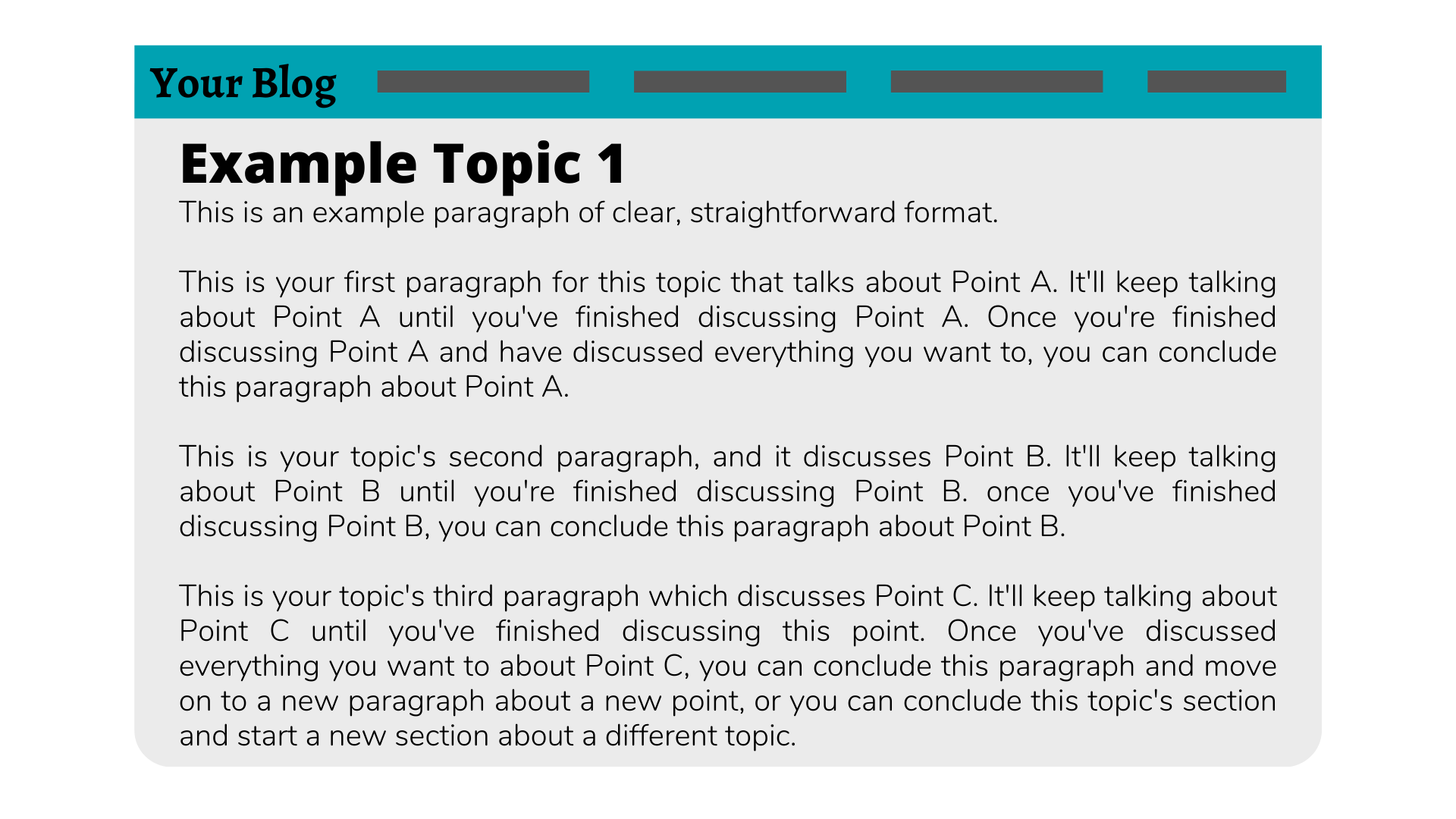 As you can see, a clear and straightforward layout of your content makes for a very approachable and appealing reading experience.
Have a Clear Point to Your Content
Regardless of what content you're writing about, be it sharing your expertise or discussing solutions for a common problem, you want your readers to understand a key message you're conveying to them.
Give your readers a main point to latch onto while reading your content, and make it something that they can take with them after they've finished reading your content. This will contribute to your credibility as an informative source, and build your readers' trust in you and your content.
Make Your Arguments Clear
Present clear points of views, and give clear conclusions and/or solutions to what you've discussed in the rest of your post. For some readers, it might not be enough for you to just give a simple overview of a topic. Make the point of your content as clear as possible, so that as many people as possible are able to understand and appreciate what you have to say. It's better that your point gets across to even the most simple-minded of your readers, rather than leave some of your audience confused about what the point of reading your article was. You can never go wrong with being very clear about what your writing is trying to say!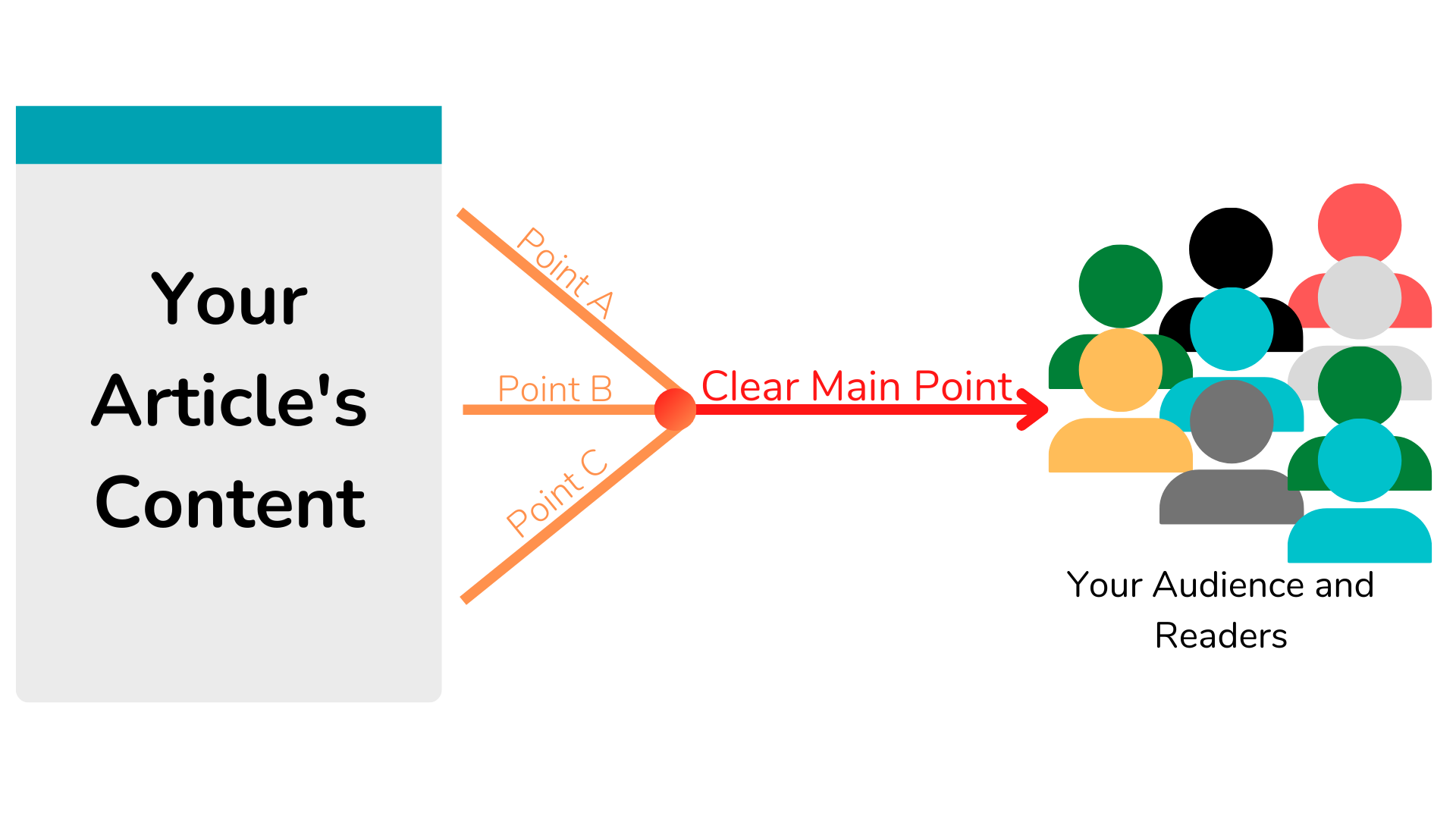 Make your points clear to your audience, so they understand the main idea of what you're sharing with them with your article.
To improve your blog post writing, there's a variety of methods you could use to improve the quality of your work and earn yourself a bigger audience. You can follow the advice that I've just detailed in this post, or you can always branch out and try other methods yourself and see what works best for your individual brand of content. In any case, remember to always look for ways you can improve your blog writing, because improvement in your content can only bring you and your blog more success.