How the Amazon Affiliate Program Works
What is the Amazon Affiliate Program?
The Amazon Affiliate program, also known as Amazon Associates, is an affiliate marketing program created by Amazon. It's a free program aimed at website owners, bloggers, and any other individuals or groups online who are able to reach an audience. Being part of the Amazon Affiliate program involves program associates using their online presence, whether it's through an informative site or social media posts, to advertise products from Amazon.com to their audience. When people click on the links and buy those products on Amazon, the program associates earn commission from each purchase made this way. This means that for each sale made through an affiliate link, the link's creator earns a percentage of that sale for themselves.
In this article, we'll be talking about becoming part of the Amazon Affiliate program, how it works, what steps you should take, what you should be aware of, and more.
How Does the Amazon Affiliate Program Work?
The Amazon Affiliate program can be broken down into 5 simple steps:
Associates create an Amazon Affiliate account on the platform.

Each associate is given a unique Associate ID by Amazon.

Once an associate's application is approved, associates begin creating affiliate links with their account.

Associates place their links where their audience can find them, like on their websites, or in their video descriptions.

Once the link is made and someone makes a purchase through it, the associate earns commission.
Especially in the beginning of your time as part of the Amazon Affiliate program, your earnings will likely be on the lower side, so keep that in mind when starting out as part of the associate program.
Different categories of products have different commission rates per product sold. Before you get started with the Amazon Affiliate program, be sure to read through the commission rates chart for different product categories, so you can get a better understanding of how much you stand to make from being part of this program.
Amazon Affiliate Program Requirements and Policies
While the Amazon Affiliate program offers many benefits to its associates, like creating a form of supplemental income for a small brand, or being able to monetize otherwise-non monetizable passion projects, it also has a set of
expectations and policies
that have to be fulfilled before you can get started and while you're part of the program. If you don't fulfill their requirements, or if you fail to meet them after you've become an approved associate, you risk being banned from the program.
Many of the rules are implemented for the sake of preserving ethical standards and to prevent any exploitation of the system from happening. This means as long as you and your online presence's moral standards are intact, there should be little to no problem fulfilling these rules. Highlights among the rules include:
Associates must disclose in their communications that they're eligible to earn from their recommendations to their audiences.

Associates must not make false or deceptive claims in their recommendations.

Associates should not use affiliate links in offline promotions, eBooks, or email.
As a side note, the Amazon Affiliate program may be one of the more popular affiliate programs, but it's not the only option out there. There are many other affiliate programs that you could try your hands at, especially if you're not sure you want to commit to Amazon's system just yet, or if you end up not qualifying for approval into the program. You could even participate in several at a time to increase the scale of the affiliate marketing you're a part of.
How to Become an Amazon Affiliate
I'll now take you through a step-by-step guide for how to open an Amazon Affiliate program account so you can start implementing affiliate marketing into your online presence.
1. Establish an Active Online Presence
To be approved as an Amazon associate, you'll need to first have an active website, app, YouTube channel, blog, or any other form of online presence that predates your application to be an associate. The more active and long-term your online presence has been, the better, as this will demonstrate the authenticity and legitimacy of your online presence. The legitimacy of your online presence will be favorable both towards Amazon when they review your application, and your audience that you want to appeal to.
Establishing an online presence for your Amazon Affiliate status to be built upon may sound difficult, but rest assured that it's easier than you'd think. All you'd really need is a website upon which you create content that will reach audiences interested in what you do. Are you new to creating websites? I'd recommend you use Website.com's Site Builder, which works in a straightforward drag-and-drop manner that's great for beginners and experienced users alike, to get yourself off to a strong start. Are you more experienced with creating and running websites? I'd recommend you create a site using WordPress; of course, WordPress sites need hosting, and for hosting, I'd recommend using Doteasy, which has given me great experiences with its guaranteed 99.9% uptime flexible range of hosting options, and quality in-house support. Give these options a try and see what you think! 
2. Sign Up to the Amazon Affiliates Program
You'll need to create an Amazon Associates account to apply to become an associate of the Amazon Affiliates program. To do so, head to the
Amazon Associates homepage
and sign up, where you can either use an existing Amazon account or create a new one.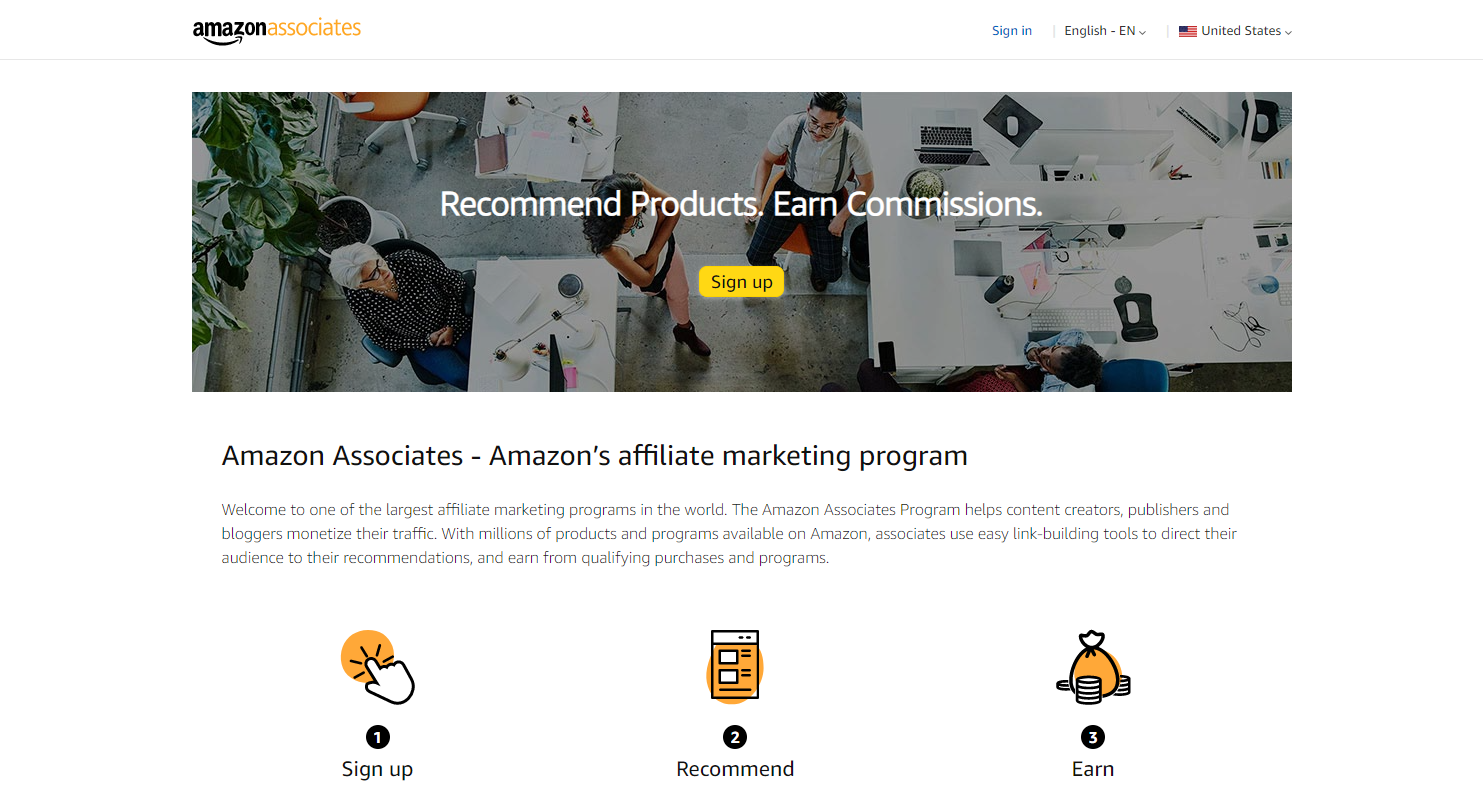 3. Fill Out Your Affiliate Account Information
After selecting if you'll use an existing Amazon account or create a new one, you'll be prompted to enter your affiliate account's information, like the name, address, and phone number of the account's payee.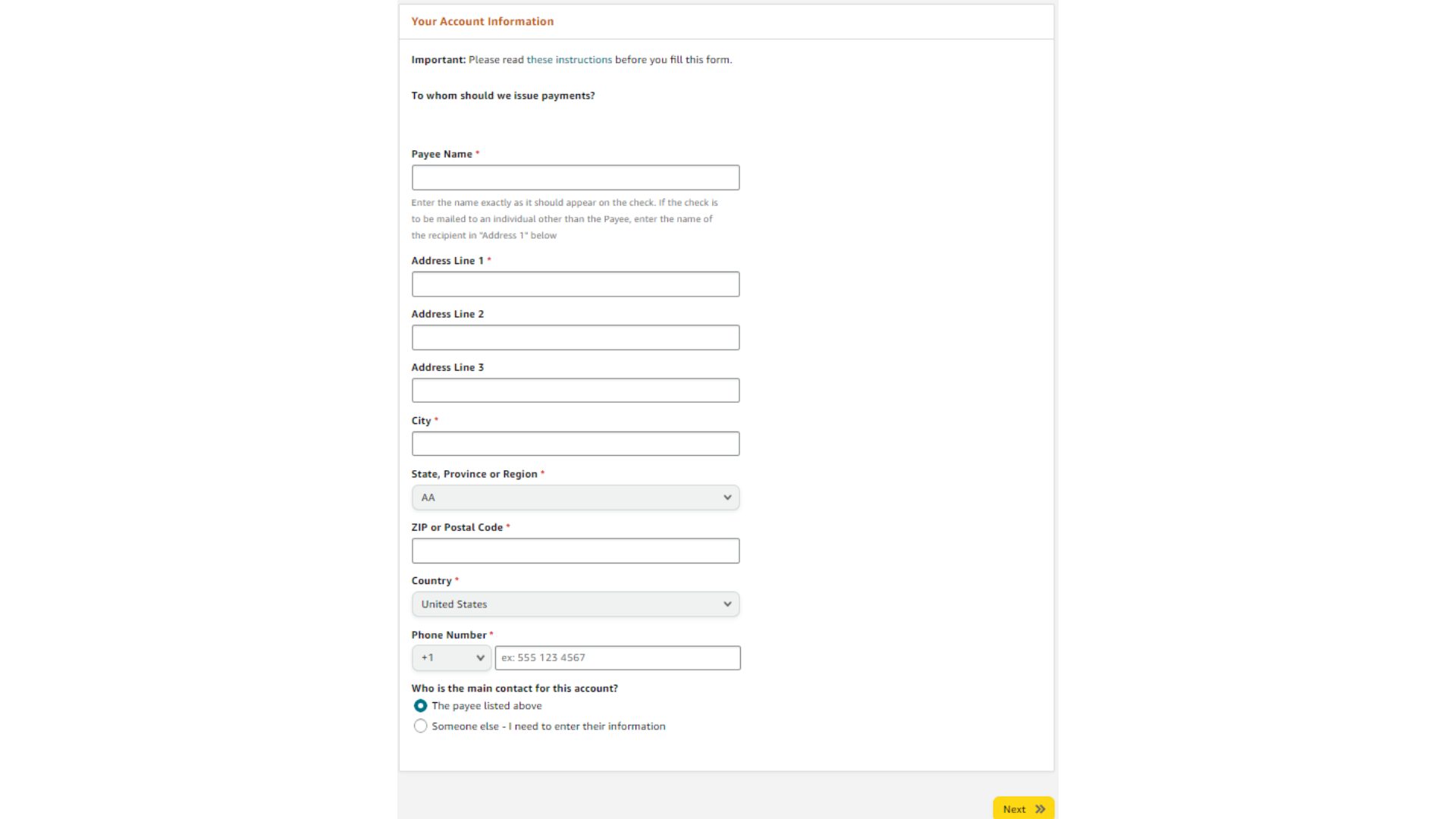 Next, you'll be prompted to enter the different parts of your online presence, from your website address or addresses to your YouTube channel and apps.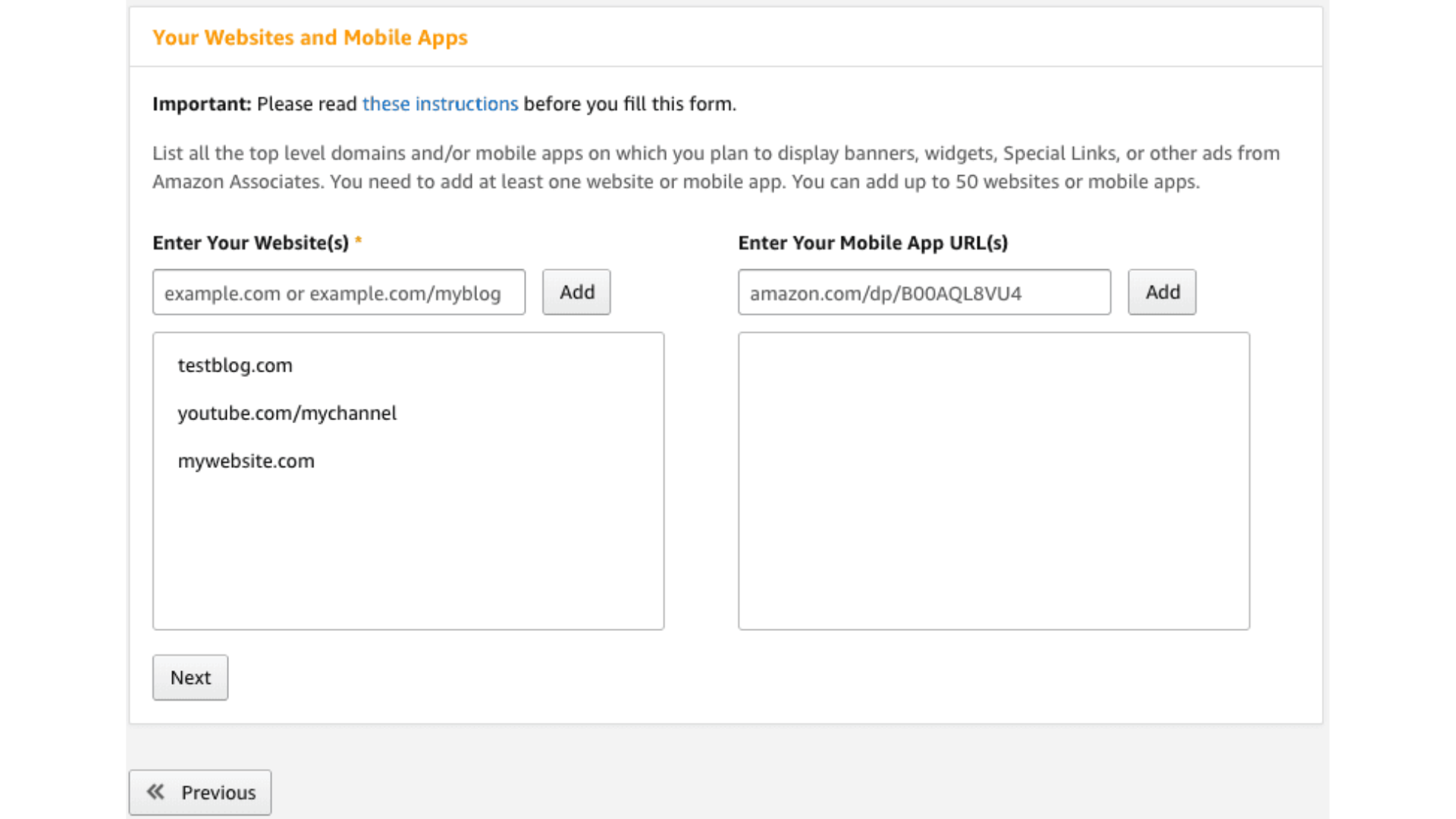 Now you'll be asked to enter your preferred store ID, which you'll typically want to be the same as the name you use for your primary online presence. You'll also explain what your online presence hopes to accomplish, and select broad categories of products, services, and topics that your affiliate links will likely focus on.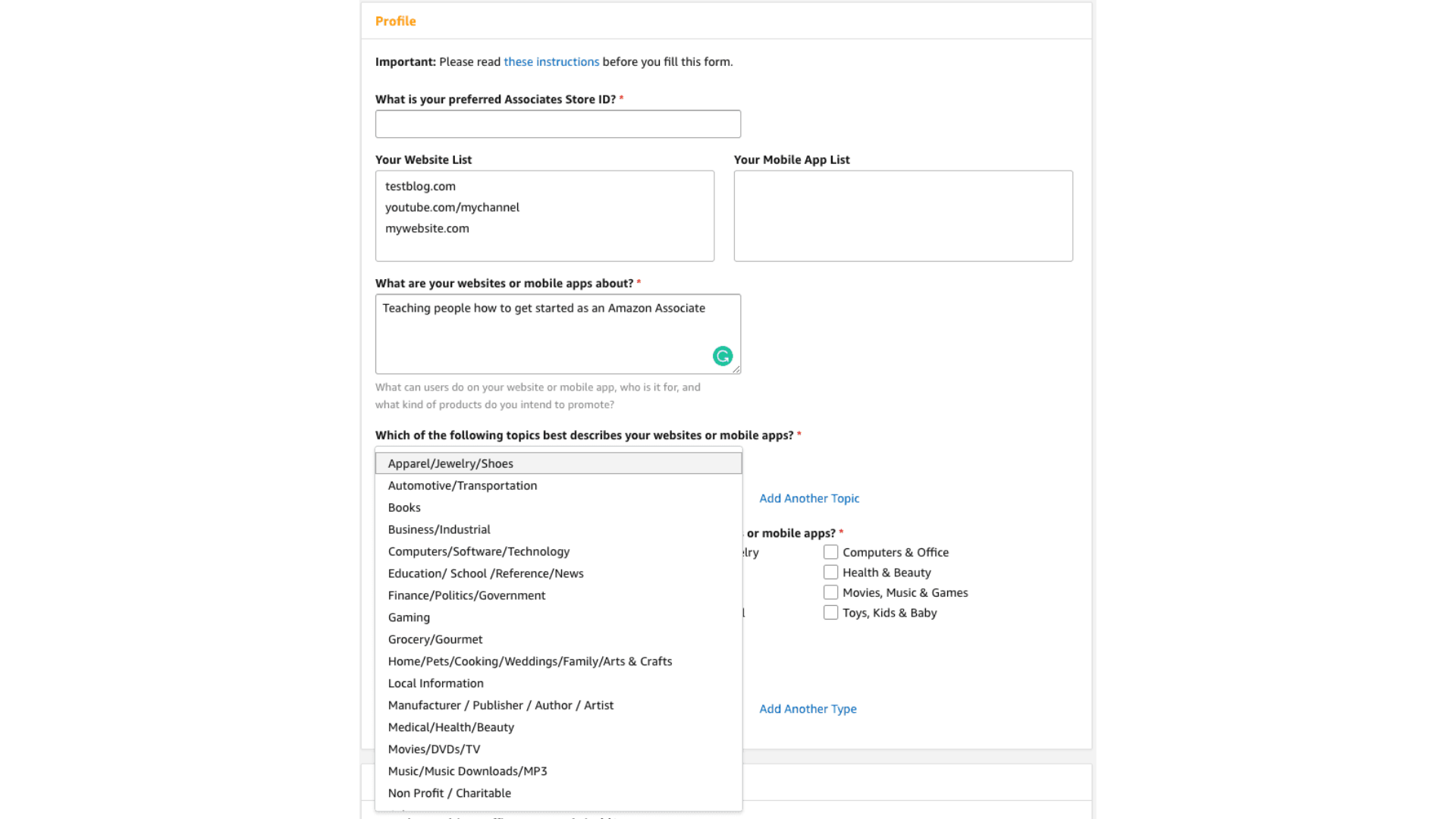 6. Your Site's Operations and Scale
Fill out information about how you bring traffic to your online presence, how income is generated by your online presence, how many visitors your site brings in monthly, and how you usually build links.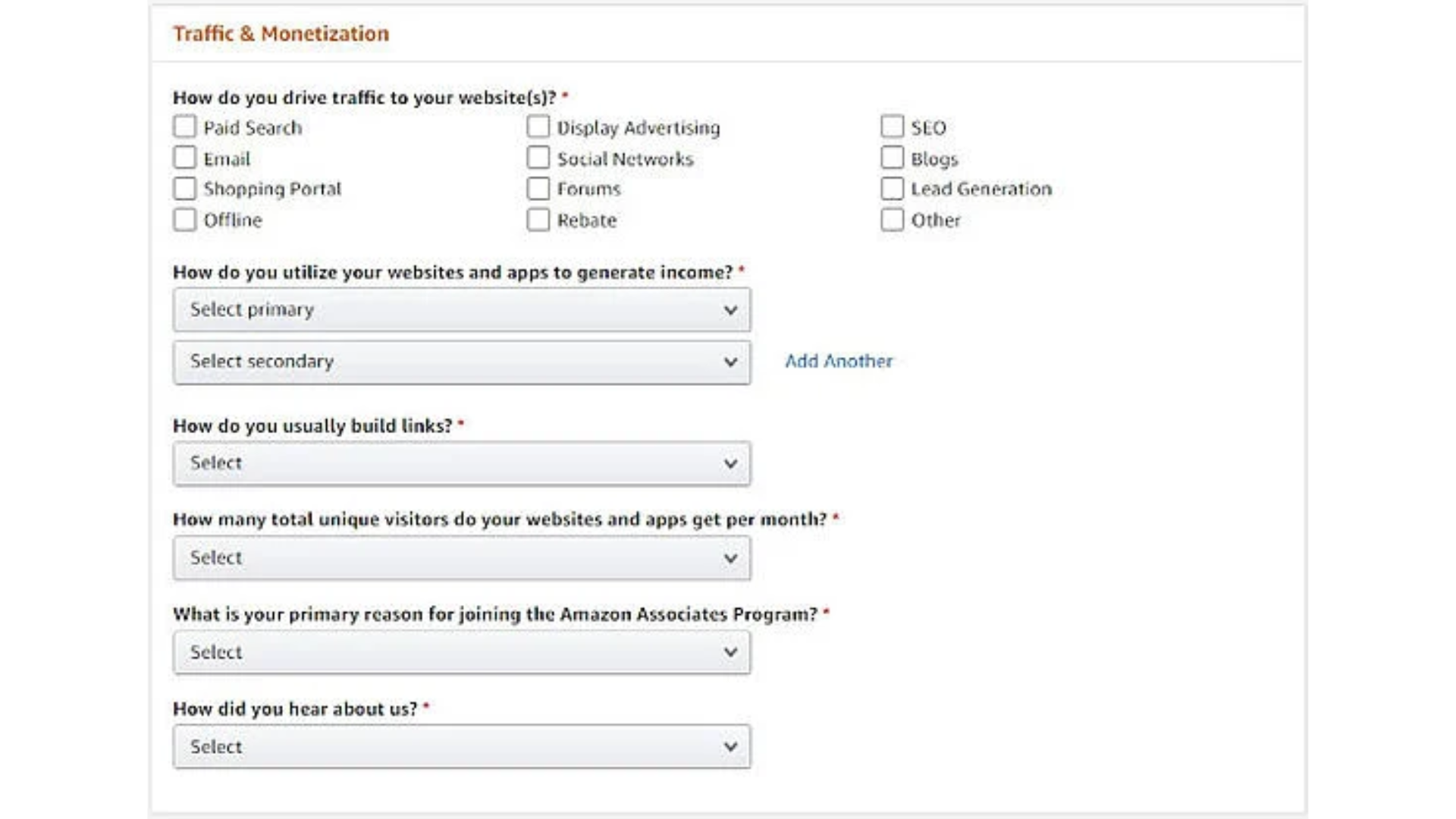 7. Select Your Payment Method
On this next page, you'll have the option to choose to enter your payment and tax ID details now or at a later time. This is the last step you'll need to do before you can go and access your associate dashboard.
8. Access Your Dashboard and Create Amazon Affiliate Links
Now that you've filled out the details for your account, you'll be directed to your personal Amazon associate homepage. On this page, you'll be able to find your performance overview, showing you your monthly summaries, earnings, and total link clicks. This should be a page you often spend some time on to stay aware of how your role as an associate is going.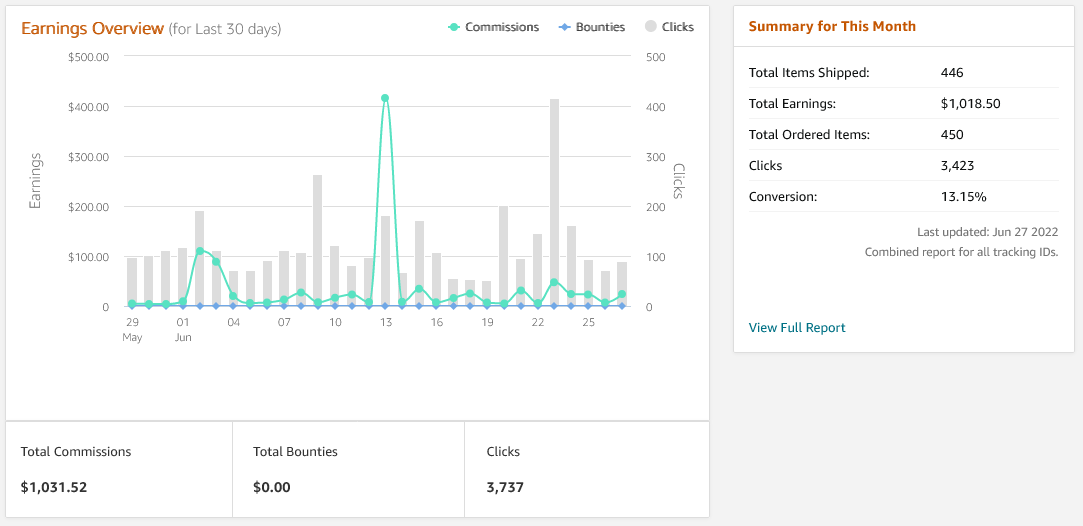 Congratulations, you've successfully learned about and set up your Amazon Affiliate program account! Now, you might be wondering about the most important part of being an Amazon Affiliate program associate: how do you create an Amazon Affiliate link? Stay tuned for a detailed step-by-step guide on creating an Amazon Affiliate link.
Looking for ideas on how you can integrate earning income into your online presence? Read this article about how to make money online. Good news: by following this guide on becoming an Amazon Affiliate, you've already started off strong in your journey of making money online, so don't hesitate to learn more about how you can build off of what you already have going for you!